Posted December 21, 2020
Bodyworn Gear safety vest with modular lighting
Bodyworn Gear has received Patent #10,660,384 for its safety vest with modular lighting system.
---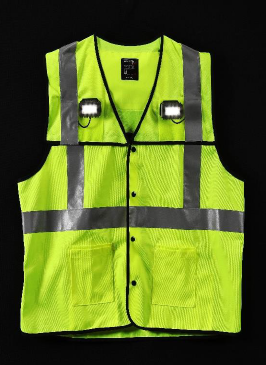 The HiVis vest system includes a modular light system that runs on a rechargeable Lipolymer battery. All the electronics can be easily moved to a new vest once the vest has reached its service life.
"We developed a safety vest system that incorporates adjustable high output LED light modules. The task level light output greatly enhances worker safety and allows for higher efficiency as workers are no longer straining to perform jobs having to bend their necks aiming head lamps," said Philip Lauf, co-founder and president of Bodyworn Gear. "This system increases worker safety, comfort and output making it a win, win, win!"
The Gen 3 modular light system is available in HiVis vest designs that meet ANSI Class 2 and Class 3 standards for breakaway, night traffic use, and public safety workers. The vests are popular with outside night workers but also any worker performing tasks in cramped or poorly lit areas. "Development of this product was done with customer input. In fact, one of the major U.S. railroads provided valuable prototype test feedback as we went through various iterations ending up with our Gen 3 LED modular system. It incorporates all the requested features and then some," said Jeff Stoltz, co-founder and vice president of product development at Bodyworn Gear. "Depending on the brightness level, which is adjustable and the battery pack option, the lights can run over 8 hours continuously on a single charge. The system is completely water resistant and the lights can be aimed up or down giving the user great flexibility."
Another feature is a rechargeable flashing light on the back of the vest available in white, amber, or red. The Gen 3 LED modules have multiple flash functions and besides white are available in amber and blue colors. Custom configurations are available.