Posted April 18, 2017
Bonomi lead-free brass shutoff ball valves
Bonomi North America is now offering lead-free automated brass shutoff ball valve packages with press-fit connections in sizes ½-inch to 2 inches.
---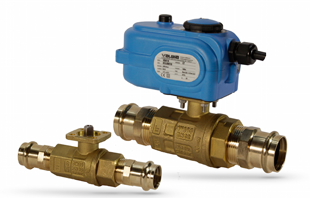 Press-fit makes secure connections to copper tubing in seconds without the use of solder. It is suitable for use with types K, L, and M hard (drawn) copper tubing in 1/2" to 2" OD and soft (annealed) copper tubing in 1/2" to 1-1/4" OD.
The RB 250N LF full-port direct-mount ball valve with press-fit ends provides bubble-tight shutoff. It is built with a forged lead-free brass body made without the addition of bismuth or silicon to replace lead in the brass. Bismuth and silicon, often added by other manufacturers to improve machinability, have been associated with valve failures and installation problems.
Blowout proof stem, PTFE seats and double O-ring stem seals for leak-free service are standard. Like all Bonomi valves, the 250N LF is 100% factory tested before shipping.
Choices for actuators include the compact new Valbia® VB010 "Mini" quarter-turn direct-mount electric actuator and the standard size VB015 and VB030 electric actuators. All three provide reliable automatic flow control for a wide range of applications.
Valbia electric actuators feature steel and techno-polymer gears with hardened steel pinions for long life and quiet operation. Their watertight enclosures allow use indoors or outdoors. All actuators are dual voltage. Heater and thermostat are standard. A manual override, anti-condensation heater, and a 75% duty cycle motor are also standard.