Posted March 10, 2021
Brass Knuckle Spectrum eye protection
We know that fogging lenses and an overall lack of comfort are the two main reasons that workers remove their eye protection.
---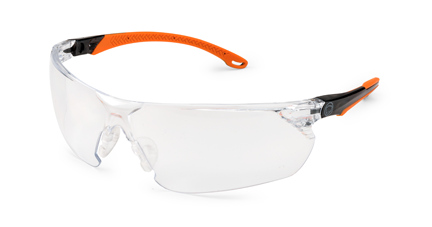 Brass Knuckle Spectrum (BKFLEX-4040N) helps solve it by bringing together flexible comfort and peak anti-fog protection for safety eyewear they'll never want to take off.
In fact, lens fogging is the No. 1 challenge facing wearers of eye protection. It makes workers want to remove their safety glasses to wipe away the fog. That's a hazard waiting to become an accident. Workers who aren't wearing eye protection are out of compliance — and, in those vulnerable seconds or minutes that their eyes are exposed to potential impact or splash hazard, eye injuries can occur.
Spectrum helps prevent this issue with BK-Anti-Fog lens protection. It permanently bonds to the lens and will not wear off or wash off. Its anti-fog protection exceeds European EN 166/168, and in fact lasts 15 times longer. (Unfortunately, there is no anti-fog standard in the U.S. for protective eyewear. The only anti-fog standard for safety glasses is the tough European EN 166/168.)
For comfort, Spectrum features bowed, super-flex rubber temples that ratchet for custom fit. They touch the wearer only behind the ears, eliminating all pressure points. These ratcheting flexible temples offer a true face-hugging design that inspires compliance. Capping it off, the second-generation PivotEase nosepiece slides up and down and pivots on a hinge for added secure fit.
Spectrum brings all this to bear while also retaining its anti-scratch, anti-static, and UV protection properties.
This collection also pops with color, inspiring the Spectrum name itself. Each lens color in the family sports a unique, corresponding temple color.
Clear lens allows maximum light transmission without changing or distorting vision or colors. Smoke lens provides allover tint for normal outdoor conditions. Amber lens sharpens contrast and provides greater clarity in low-light conditions. Amber filters out blue light from computer screens and other electronic devices.
There are also two mirror lens finishes available. Indoor/outdoor clear mirror lenses provide all-around tint for protection from the glare of bright artificial lighting and sunlight, ideal for workers who change environments throughout the day. Blue mirror is a trendy and cool sunglasses style that reduces glare. (Note that the two mirror options do not include BK-Anti-Fog technology.)