Brush Research metal finishing products
Brush Research Manufacturing offers a complete line of metal finishing products including BRM's Flex-Hone Tool, Nampower Abrasive Nylon Disc Brushes, Composite Hub Wheel Brushes and Twisted Wire Tube Brushes.
---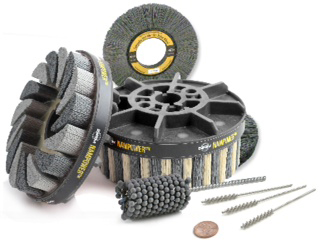 Flex-Hone Tools. BRM invented the Flex-Hone to finish and deburr any type or size of cylinder. These self-centering tools will conform to the bore surface and provide a consistent, even surface finish. They feature round, abrasive globules mounted to the end of flexible nylon filaments. Available in 9 different abrasive types and 11 grit selections to customize your surface finishing and deburring needs.
Nampower Abrasive Disc Brushes. Available in two standard stock configurations, dot and turbine style, for light and heavy deburring. Two different trim lengths allow for different levels of flexibility and aggressiveness. These abrasive disc brushes easily integrate into automated machinery, CNC machining centers, transfer lines and robotic cells.

Nampower Abrasive Nylon Composite Hub Wheel Brushes. These brushes feature flexible nylon filaments set in a strong thermoplastic base. The composite hub construction allows for a greater, more uniform fill and produces a brush that has more cutting points, less vibration and greater process repeatability.
Miniature Abrasive Nylon Brushes. Removing burrs and producing an edge radius on small diameter holes is an expensive finishing problem that involves a great deal of hand work. Miniature deburring brushes can automate this process saving time and money while improving product quality and consistency. Brushes designed for thru holes (81 Series) are available for holes as small as .032" (.6mm).
"At BRM we're proud to offer our customers an extensive metal finishing line and a large array of standard products," said Heather Jones, director of marketing at Brush Research Manufacturing. "When standard product won't get the job done, we offer tech lab services and the ability to custom design brushes. Our motto is Great Products. Better Finishes."