C.H. Hanson insulated tool line
C.H. Hanson is launching a full line of 1,000V rated fully insulated tools designed for the electrical and maintenance professional.
---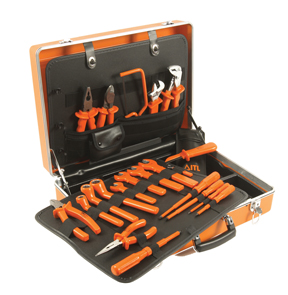 The company is partnering with UK tool manufacturer Insulated Tools Limited to be the sole North American supplier of ITL's complete line of insulated hand tools to the MRO professional. The tools will be marketed under the C.H. Hanson/ITL brand name.
"We've worked closely with ITL for several years, and we're excited to partner with such an innovative company," said C.H. Hanson executive vice president Phil Hanson. "This allows us to expand into a new market, supplying customers a full range line of professional-grade tools offering maximum personal protection. Arc Flash awareness is increasing rapidly in the U.S. and we are excited to be able to offer our customers products that promote safety in this area."
Hanson added, "What attracted us to the ITL line is their unique use of injection molding and Nylon-11, an engineered plastic resin which directly bonds to the tool, rather than just coating it. The result is a stronger, longer-lasting insulation, able to withstand extremes of temperature and force. No other insulated tool features this technology providing this level of protection."
Nylon-11 insulation is proven to be more durable for safer operation than other insulation methods. Every tool meets or exceeds International Electrotechnical Commission (IEC) standards IEC60900 and ASTM F1505. In fact ITL tools are the only insulated tools that have achieved the Category "C" rating for use in extreme temperatures. These products are tested to withstand impact after being subjected to temperatures from -40F to +158F for two hours.
Insulated tools are especially important to power utility crews, emergency workers, plant MRO professionals and commercial electricians who need to meet OSHA regulations when working near energized conductors.