CRP Industrial offers Tudertechnica Spiraltech hose
CRP Industrial offers a new line of Tudertechnica Spiraltech Hoses that are specifically designed for outdoor use in environments that typically create high cover wear.
---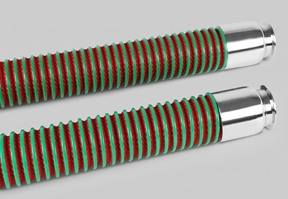 The Spiraltech line is an extension of the industry proven Tudertechnica hose program. It introduces a new type of hose construction that fills a critical void in the industry for a high flow rate, high wear resistant hose design. Spiraltech has been specifically engineered to help prevent hose cover wear under abrasive conditions.
Every Spiraltech hose features a PVC spiral reinforcement that provides additional abrasion resistance with enhanced flexibility. The spiral reinforcement is chemically bonded to the hose wall and cover to prevent separation. The hose's innovative design incorporates protective spiral ribs that increase the height of the hose, elevating the hose and preventing the cover from contacting the ground or other surfaces.
The lightweight and flexibility of Tudertechnica Spiraltech makes it ideal for use in vineyard, brewery, dairy, and outdoor food and beverage delivery, as well as fuel chemical applications. It is available for NAFTA customers in the U.S., Canada, and Mexico.
According to Guy Renshaw, vice president, CRP Industrial, "The exclusive cover configuration of our Spiraltech hoses fills an important need in the fluid delivery industry. Standard cloth finished hoses cannot handle the high wear environment and abrade very easily, especially on rough surfaces such as gravel. While some competitive hoses also use a spiral design, the spirals tend to separate from the hose. Our Spiraltech spirals are chemically bonded to the cover and become an integral part of the hose."
The Spiraltech line features a range of material options including BUTYL, Nitrile, UHMW, and EPDM. It is available in diameters from 1.5 inch to 4 inch with lengths of up to 130 feet. It is also offered in a wide array of operating pressures.