Tudertechnica Teflon PTFE-lined chemical hoses
CRP Industrial, a division of CRP Industries Inc., offers two new Tudertechnica Teflon PTFE-lined chemical hoses for use in the chemical, pharmaceutical, cosmetic, biotechnology, and food industries.
---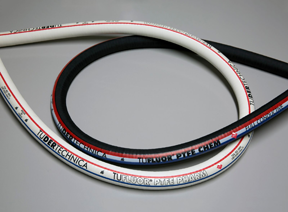 The hose designs include TUFLUOR PTFE CHEM for chemical and food industry applications and TUFLUOR PTFE PHARM for the pharmaceutical applications.
The TUFLUOR PTFE CHEM design incorporates a smooth liner of Teflon transparent-white, co-extruded, non-pigmented PTFE (Polytetrafluoroethylene), giving it a unique set of attributes in the hose industry. It is custom-made and designed to minimize the potential risk of migration of conveyed substances in chemical and food applications. TUFLUOR PTFE PHARM also features a Teflon PTFE liner, but is made to meet pharmaceutical industry specifications.
Tudertechnica has a trademark/copyright license agreement with The Chemours Company (formerly DuPont) and it uses exclusively Teflon PTFE resin in its hoses. Both hose are now available from CRP Industrial for NAFTA customers in the U.S., Canada, and Mexico.
The Tudertechnica Teflon-lined hoses deliver a much smoother surface and with less micro-porosity than a pigmented Fluoropolymer lined hose. This not only guarantees a consistency of purity in the substances that are transported but also a lower level of permeability and leaching. The incorporation of Teflon PTFE helps create an ideal wall thickness that, despite the co-extrusion, is no thicker than a normal pigmented liner and offers excellent flexibility.
According to Guy Renshaw, vice president, CRP Industrial, "Tudertechnica is one of the few companies in the world with a trademark/copyright license agreement with Chemours. Both hoses are the result of a joint research and development agreement between Tudertechnica and Fluortubing BV. This combined effort has resulted in a superior product that we believe will outperform other similar products in our industry."