Reinflex High Pressure Hose & Accessory Catalog
CRP Industrial offers a new Hose & Accessory Catalog featuring a full line of Reinflex high-pressure thermoplastic and Teflon hoses.
---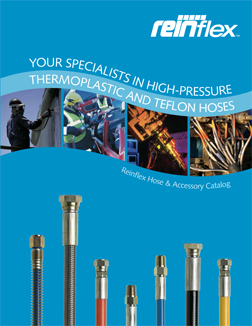 The ReinFlex family of thermoplastic hoses features a range of designs, each with specific materials, construction, and pressure ratings that allow design engineers and maintenance specialists alike to choose the hose that perfectly suits their needs. These features make Reinflex high-pressure hoses an excellent choice in a variety of industries from OEM production lines to MRO operations to construction sites.
The new Reinflex catalog features a family of Reinflex hose designs that provide outstanding performance and durability in various applications including, airless paint spray, air cascade systems, emergency rescue equipment, fluid transfer, high pressure hydraulics, micro- hydraulics, moisture resistance, non-conductive, sewer jetting, and water jetting. The catalog showcases each design with complete descriptions, specifications, product images, and ordering information. The catalog's accessories section includes a full selection of adapters, couplings, pressure gauges, ball valves, and hose jackets.
Guy Renshaw, vice president, CRP Industrial, notes, "Our family of Reinflex high-pressure hoses can cover nearly every application imaginable. We offer hose designs that are just right for use in a host of different industries, including chemical plants, oil rigs, construction and other heavy equipment, water treatment plants, vehicular applications like line stripers and spray foam, fire and rescue equipment, as well as in smaller local uses such as those encountered by maintenance crews, plumbers, and contractors."