Posted February 19, 2020
Caldwell Vertical Clamp for Lifting, Turning Curved Loads
Rockford, Illinois-based The Caldwell Group Inc. has launched a vertical and turning clamp designed for lifting and turning single curved plate or pipe from horizontal to vertical and vice versa.
---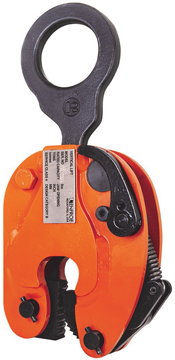 The model TLC (turning, locking, curved surface), which lifts and turns from zero to 90 degrees, incorporates a vertical lifting clamp featuring a 'lock open' and 'lock closed' feature, facilitating attachment and removal from the load. A specially designed cam jaw is made to safely lift curved surfaces and flat plate.
The product was first unveiled at the Associated Wire Rope Fabricators (AWRF) Product Information Exhibition (PIE) in Cleveland, Ohio last spring, as an enhancement to the manufacturer's TL clamp, which itself is capable of turning a single plate or load from horizontal to vertical and back to horizontal through the same 90-degree arc. The TLC joins the same range and is also available in 0.5 to 20-ton capacity.