Posted October 21, 2019
Champion Cutting Tool Brute XSR Step Reamer
Champion Cutting Tool Corp.'s newest tool, the Brute XSR Step Reamer, is a heavy-duty hybrid of two of its most popular tools: the MSD Step Drill and the SA80 Reamer.
---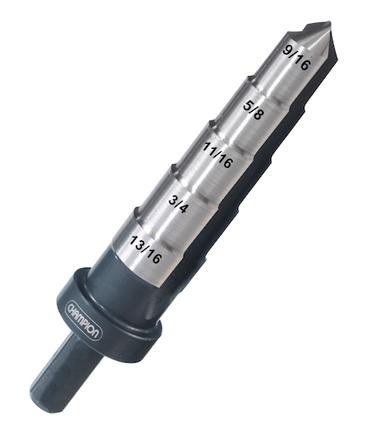 "Step drills are great tools for cutting thin metal, but they are limited in capacity when it comes to other tough industrial applications. The Brute XSR is a solution oriented high-performance tool that solves this problem," said Lowell Frey, president of Champion Cutting Tool.
The Brute XSR Step Reamer is the ideal tool to align or enlarge existing holes in steel. Super sharp flutes and a unique stepped design allow operators to cut holes in steel plate up to 1/2-inch thick. Engineered with a 3/8-inch flatted shank, the XSR can conveniently be used in a portable power drill or drill press.
Each tool features five steps (5 drill sizes), which makes it an efficient, productive, high value tool for users who need to cut a variety of bolt hole sizes. For example, the XSR-9/16x3/16 can cut holes sizes 9/16, 5/8, 11/16, ¾, and 13/16".
The Brute XSR Step Reamer has widespread industry applications including construction, steel fabrication, manufacturing, MRO, and MEP.
Available to purchase individually or in a three-piece set, Champion is excited to enhance its broad cutting tool offering with the Brute XSR.