Columbus McKinnon Ultimate Rigging Resource
Columbus McKinnon Corporation released its new CM Chain and Rigging Attachments Catalog.
---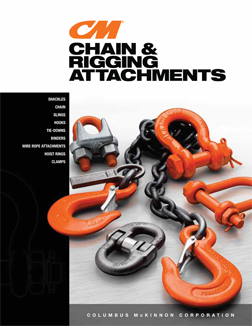 The company says this is more than just a product catalog; this is the ultimate rigging resource.
"This catalog was a major collaborative effort between our product, application, industry and training teams with feedback from a number of our channel partners and end-users," said Steve Vitello, executive director of sales and marketing – Hoist & Rigging, North America. "The result is a one-of-a-kind rigging resource."
Columbus McKinnon offers comprehensive rigging training, including rigging gear and sling inspection as well as qualified rigger workshops. These professional training programs are designed to promote the safe and proper use of rigging and overhead lifting equipment.
"In addition to the new catalog, this year we have expanded our In-Stock Guarantee to include more than 275 hoists, chain and rigging products guaranteed to ship in three days or less," said Vitello. "We have also made a number of significant product improvements, such as our enhanced product markings, as well as major financial investments in equipment, facilities and warehouses to support the rigging market."