CM Bandit ratchet lever hoist
Columbus McKinnon introduced the CM Bandit ratchet lever hoist, a compact 3/4 and 1-1/2 ton ratchet lever hoist.
---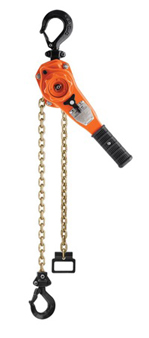 The company says the CM Bandit is the world's first ever HMI-Certified ratchet lever hoist. Its compact design and short handle make it ideal for use in confined spaces. Its portability, easy free chaining, and 360° rotating handle makes it one of the most versatile hoists on the market today, the company says.
The CM Bandit's durable upper and lower hooks swivel and are bolted-on for easy inspection and removal. These hooks also feature wide throat openings for quick load attachment. Corrosion resistant parts and American-made, gold chromate load chain give the product long life in even the harshest environments.