Posted August 8, 2017
CM Rocket Universal Pendant Control
The CM Rocket universal pendant control is engineered for maximum operator comfort, while delivering the precision control your application demands.
---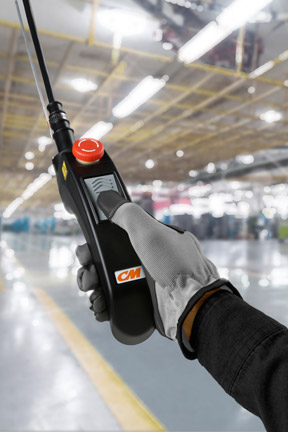 At the heart of the CM Rocket is a unique rocker switch that is ergonomically designed to reduce thumb strain and fatigue. The rocker switch gives the operator ultimate load control for micro-positioning applications, as well as increased safety and efficiency for hoist and machine operators. Its curved, well-balanced shape and ribbed grip help ensure the operator maintains a secure and comfortable hold.
The patented CM Rocket can be used for momentary operation of numerous types of industrial equipment, including hoists, conveyors, lift elevators and lift gates, mill drives, actuators and winches.
This versatile pendant control is available in 4 configurations:
Single-speed pendant
Single-speed pendant with emergency stop
2-speed pendant
2-speed pendant with emergency stop