CONDAT metalworking coolants
CONDAT manufactures a complete range of metalworking fluids, including vegetable and preservative based coolants, dual purpose neat cutting and grinding oils, cold heading (forming) lubricants and specialty maintenance oils.
---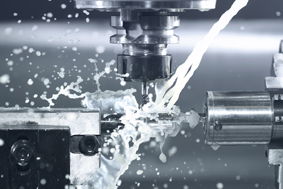 Since 1854, CONDAT has formulated various specialty chemical compounds and lubricants. The new MECAGREEN products are vegetable-based chemistry that took CONDAT's formulation team over two years to create. This unique blend of synthetic vegetable esters demonstrates some very favorable characteristics in both machining and grinding applications. Benefits to the users include:
Extended Tooling Life
Point-of-cut studies indicate that MECAGREEN coolants have achieved a 20% gain in tooling life.
Consumption reduction
Vegetable emulsions have shown a 30-45% reduction in consumption compared with traditional mineral based coolants.
Improved cleanliness
MECAGREEN coolants have similar residue to many synthetic coolants, so that windows, tables, tool holders and parts stay clean. The transparent color also provides clear visibility of the cutting processes during operations.
User friendly
MECAGREEN products provide long sump life and excellent cutting performance without the use of chlorine, DEA, DCHA, formaldehyde or silicones. MECAGREEN products are proven to be operator friendly with regards to dermatitis and other coolant related sensitivity issues.