ContiTech expands hose offering
ContiTech introduced an expanded range of industrial hose in three market areas for North America.
---

The new offering includes Microban-engineered hose for the food and beverage industry; Spiraflex TPU hose for water transfer and Prospector hot oiler hose.
Microban is manufactured into the cover of select hose ContiTech's Extremeflex Beverage, Brewline and Vintner that helps to reduce or eliminate bacterial growth in the workplace. The Microban antibacterial technology provides around-the-clock, permanent antimicrobial product protection, keeps hoses cleaner between uses and helps prevent hose deterioration from damaging bacteria, mold and mildew. "Food and beverage hose with Microban offers an added level of protection that helps boost product safety while guarding against hose degradation and contamination from the growth of bacteria, mold and mildew," said Randy Kish, manager of distributor marketing, industrial hose and hydraulics for ContiTech. "It is built into ContiTech food processing hose during the manufacturing process."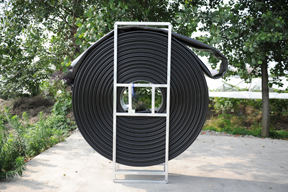 The all-new Spiraflex TPU water transfer provides increased efficiency in operations conveying water from point A to point B as quick as possible, without impacting the integrity of the final product. "The Spiraflex TPU hose not only gets the water there quicker, it can withstand tough working environments," said Kish. "Its cover layer has high abrasion resistance allowing for more time on the worksite, resistance to oil, fuel and chemical allowing for less downtime." Spiraflex Black TPU is a thermoplastic polyurethane lay-flat hose. A heavy-duty version of the discharge hose also is available and is suitable in dewatering, gas drilling, mining, industrial water discharge applications.

The new Hot Oiler hose is engineered specifically to handle the transfer of hot oil to clear paraffin around casings on the derrick to help the flow of oil to the surface. "As the oil and gas industry struggles with government-mandated regulations, and an increasing need for return on investment, contractors and oil rig operators are constantly looking for ways to improve performance and reduce downtime," said Kish. Its synthetic rubber cover provides a higher level of abrasion resistance meant to withstand the harsh working environments of a drill site."