Posted February 26, 2020
Cortec EcoLine greases
Cortec's broad selection of EcoLine greases make it easy to start the move toward greater environmentally responsible maintenance in any industry.
---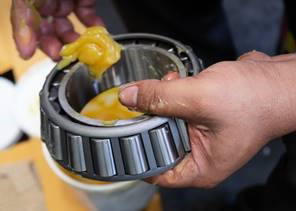 EcoLine greases range from NLGI grades 0 to 3. While many EcoLine names designate specific uses, the greases can typically be used across applications wherever a biobased version of a particular grade is desired. Many of Cortec's EcoLine greases are biodegradable, low toxicity, and non-bioaccumulative as required to be an environmentally acceptable lubricant (EAL) under the EPA's VGP regulation for vessels operating in North American waters. This makes them excellent candidates for marine or outdoor applications where there would be a greater concern about contaminating the environment.*
EcoLine Heavy Duty Grease is an all-around lubricant for any extreme pressure areas where NLGI grade 2 grease is needed, including but not limited to auto chassis, wheel bearings, gears, farm equipment, vehicle fleets, and marine azimuth thruster bearings. It meets NLGI's GC-LB specifications for fretting wear protection, oxidation and thermal stability, and resistance to rust and corrosion.