Posted April 23, 2019
Coxreels V-100 Series now comes with hose
Coxreels V-100 Series product has been improved and is now offered with hose.
---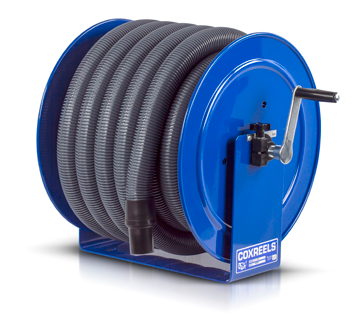 With a redesigned fluid path, the V-100 Series features improved O-ring sealing for greater vacuum consistency and performance in addition to a new swivel retention system, which has strengthened the frame and prevents separation of the swivel under excessive lateral loading. Along with the redesign, another improvement is zinc plating of the swivel components for greater corrosion protection.
The new swivel design includes another important feature. Previously, the hose reel only accepted 1.5-inch inlet, but the new swivel allows for the connection of 2-inch hose on the inlet in addition to the 1.5-inch hose. This is done by sizing the inlet to fit 1.5-inch hose on the inside and 2-inch hose on the outside. This is important because retail shop vacuums come with 2-inch hose, not 1.5-inch, thereby making the product more accessible to home and light commercial applications. The outlet remains 1.5-inch for 1.5-inch slip hose cuffs.
The reels with hose are offered in two hose lengths but the reel itself remains unchanged. The hose lengths correspond to the HP rating of the vacuum used with the reel. For vacuums with 5 HP or less ratings, the 35-foot model is recommended. For vacuums with greater than 5 HP ratings, the 50-foot model is recommended. The hose has a super flexible "crush-proof" smooth interior hose suitable for commercial cleaning applications and is equipped with standard 1.5-inch threaded hose cuffs.