Posted June 8, 2020
Creform mobile sanitizing station
As companies restart manufacturing and employees return to work, all out efforts are being made to keep workers safe.
---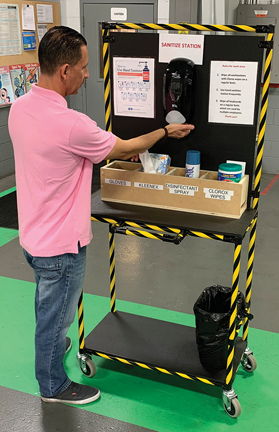 In response, Creform has designed a simple mobile station to hold cleaning supplies, hand sanitizer and postings about proper health practices and company procedures. It can hold supplies such as gloves, wipes, cleaning/sanitizing solutions, towels, hand sanitizers and masks. The new station can help companies combat the spread of COVID-19 by making cleaning and sanitizing supplies readily available.
The Creform structure features a small table surface with a shelf located close to the base that can hold additional bulk supplies and a refuse receptacle. The station features an overall dimensions of 48" W x 16" D x 72" T and is built using 28 mm plastic coated steel pipe and metal joints. The unit pictured is built with visually impactful yellow/black spiral pipe and features four 4 in. diameter swivel casters for easy, stable and safe movement. The wheels provide easy movement of the structure from point to point or for housekeeping. Two of the casters feature brakes that can be engaged to lock station in place. However, the station can be built on feet rather than wheels if movement is not required.
The unit is available as a kit, an assembled structure or in component form for a complete DIY solution. The design of structure can be easily changed based on the supplies and information to be included and where and how long the station will be used. Lights and signage can be added. The unit is economical and quick to assemble.