Posted November 30, 2020
Creform Z Cart
Creform Corporation has designed and produced new concept in carts for in-plant handling of totes and parts containers.
---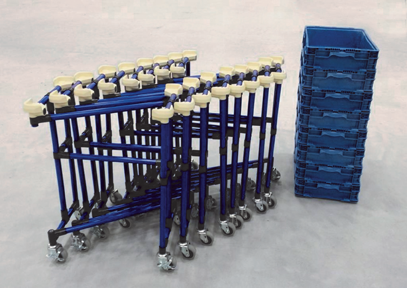 The carts, referred to as Z-Carts, can be built to hold just about any size tote or container while ergonomically presenting the contents well off the floor at a comfortable picking height for an associate.
The unique "Z" design allows empty carts to be nested within itself, significantly reducing required storage space when they are not in use. They are well suited for most manufacturing and assembly operations applications.
Carts built using Creform metal joints provide the flexibility of making height and container size adjustments as needs change. Depending on the tote weight and size being used, a cart can hold more than one unit. Cart height set is based on the specific container size and application. The cart shown has a 13" x 22" footprint when nested and uses four 3" swivel casters for easy rolling and positioning with two of the casters having a locking feature. It is designed to hold up to 125 lb.
As with all Creform carts, higher capacity and custom cart sizes and configurations are possible with the Creform system of 28 mm, 32 mm and 42 mm plastic coated steel pipes and metal joints. They can be configured for ESD (anti-static) applications. A wide variety of pipe color options are available. Creform carts are available as a kit, assembled structure or in component form for a complete DIY solution.