Posted December 2, 2020
Crescent APEX project kits
Crescent APEX has developed three unique project kits with the tools needed to make quick work and move on to the next one.
---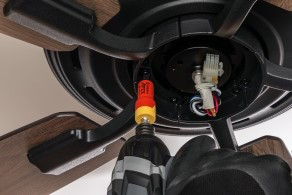 The Crescent APEX eSHOK-GUARD Ceiling Fan and Light Installation Kit (CAEBH2CK-4) puts the must-have tools for safe installation of a ceiling fan or light fixture in one place. The 11-piece kit comes with a Crescent APEX e-SHOK-GUARD ¼-inch Bit Holder that's designed with an isolation zone to withstand up to 1,000 volts, keeping you safe when working around electricity.
Its impact-rated design withstands heavy use with an impact driver, increasingly becoming the preferred method for pros and DIYers alike. The kit also comes with four bits, three strips of wire (black, white, and green) and three wire caps.
Similarly, the 22-piece u-GUARD Drywall Anchor Kit (CAUGB3BPH2K) makes installing drywall anchors easy. The set features a 3.5" Phillips u-GUARD Covered Impact Power Bit with its non-marring, free-spinning sleeve for a scratch-free finish. Lastly, the 5-piece u-GUARD Quick Release Bit Holder and Vortex Bits (CAUGBQ2DR-4) is ideal for installing doorknobs, hinges, and other surfaces you don't want scratched.