Posted March 6, 2019
Crescent Lufkin Shockforce and Nite Eye
Tradesmen who use a tape measure thousands of times a year know what makes one stand out from the rest.
---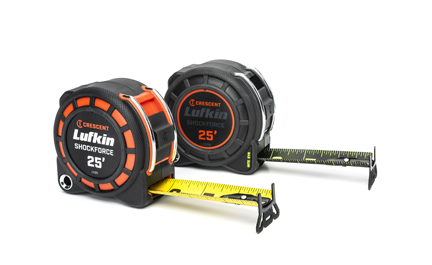 It's with their input that Apex Tool Group developed its new Crescent Lufkin Shockforce and Shockforce Nite Eye tape measures with patent-pending two-sided blade design and an industry-leading 14 feet of standout.
"Our extensive research determined what users were really looking for in a tape," said Kevin Fitzpatrick, product manager. "Saving time was critical, so when measuring on a jobsite one person can now do a two-person measuring job using this tape. And, since a tape measure is one of the most used tools on a job site, we also focused on durability to create a product that withstands drops and lasts longer."
The compact design features metal "roll bars" to protect the lock button against drop impact damage, while the simulated diamond-coated end hook provides 50 percent more hook grasp to prevent surface slippage. The dual-sided print combined with enhanced print size provide superior legibility for quicker measuring. The Nite Eye offers the same features, but with a high visibility green-on-matte black blade to be seen in any light condition.
Crescent Lufkin Shockforce Tape Measures are available in 16-foot, 25-foot and 35-foot options at hardware stores, home centers, online retailers, and industrial and commercial distributors.