Posted December 5, 2016
Crown MPC 3000 Series order picker
Crown Equipment Corporation announced the new Crown MPC 3000 Series order picker.
---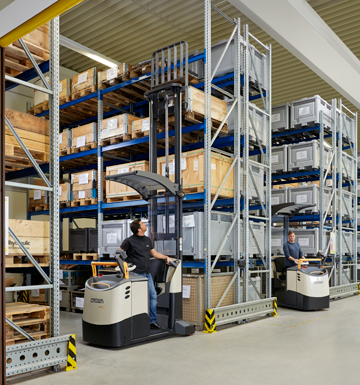 Combining the versatility of a counterbalance forklift and a pallet truck, the MPC Series features a high-lift mast that provides operators the flexibility to order pick, stack, replenish and transport pallets with the use of one lift truck.
The Crown MPC Series can perform across a variety of applications – ranging from unloading at the dock to transport and put-away – which helps to save time and increase throughput. Operators can raise and lower the forks as they build pallets at a comfortable height, minimizing back strain and saving time. Overhead visibility is improved thanks to an overhead guard design providing a better view for operators who need to position forks and loads at height. Sensors monitor steer wheel angle, fork height and load weight to adjust speed and acceleration for smooth cross-docking and long-distance transport.
The MPC Series was originally engineered and tested at Crown's European Headquarters in Feldkirchen, Germany, and has been well-received by customers in the region. "With a sturdy duplex mast capable of lifting loads to a full 14 feet plus a compact design with no intrusive load arms, these trucks are working in our warehouse as versatile all-rounders," said Christoph Grüter, head of logistics, Roto Frank Bauelemente GmbH. "The Crown MPC 3000 and its amazing agility has made a very positive impression."
The counterbalance design of the Crown MPC Series provides full clearance of the forks from the load wheel, which eliminates the need to provide extra clearance between pallets and under conveyors as you would with a typical straddle-style outrigger. This approach allows operators to save space by packing pallets closer and conserve effort by fitting under conveyors easier. Also, the truck's heavy-gauge steel skirt and chassis reduce truck damage in demanding and congested applications by protecting valuable truck components, while the sturdy I-beam mast design enables the truck and operator to confidently handle full capacity loads at height.
"The Crown MPC Series can do the job of multiple trucks without compromising productivity. For example, many facilities halt work when low-level stock is depleted and use a reach truck or other high-lifter to drop down another pallet load. This takes time and can reduce the amount of product moved during a shift," said Steve Harshbarger, product marketing manager, Crown Equipment. "With the MPC Series, order pickers can perform their own replenishment and retrieval to avoid delays and reduce reliance on additional equipment."
In addition to its precise design for the applications and environments, the Crown MPC Series gives attention to the operator experience by offering best-in-class visibility, maneuverability and control. The spacious operator compartment, combined with a low step height, accommodates operators of various sizes while providing ample room for task movements and comfortable entry and exit of the truck. The Crown MPC Series also can be used with a range of Work Assist® accessories. These rugged tools and storage options can be added to the truck to offer ergonomic advantages while optimizing workplace safety, operator efficiency and application flexibility.