DE-STA-CO upgrades 9500 Series swing clamp
DE-STA-CO upgraded its 9500 series pneumatic swing clamp to make it more versatile and easier to install.
---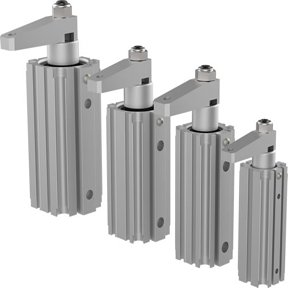 The new 9500 model features several mounting options that offer better placement opportunities in tight spaces and an additional bore size to meet the needs of more users.
"The 9500 series swing clamp is already equipped with numerous features that make it ideal for crowded welding and assembly fixtures," says Ken Hagan, global product manager for DE-STA-CO. "It is the only pneumatic swing clamp on the market that rotates on a single plane and it is built to provide consistent operation in tough conditions. The updates make it more flexible and adaptable to a wider variety of applications."
A new optional flange kit enables the 9500 series swing clamp to be mounted to any face, including the front or side of a fixture, or even an inside corner. New tapped mounts are also available, which allow screws to be threaded directly into the clamp body. These two new mounts open up new positioning opportunities and can simplify the installation process.
DE-STA-CO has also increased the 9500 series swing clamp's capabilities by adding a 50 mm bore size. Other bore sizes include 22 mm, 32 mm and 40 mm, providing options to fit a variety of light-duty needs. Clamping forces vary from approximately 35 lbf to 200 lbf, depending on the bore size.
Since it was introduced in 2009, fixture builders and designers have relied on the 9500 series swing clamp's patented arm motion to reach over obstructions. All 90 degrees of rotation occur at the top of the stroke, so the arm travels straight down when clamping. Traditional pneumatic swing clamps "corkscrew" downward, which can limit their placement on the fixture or the materials they can be used to hold.
The new 9500 series swing clamp retains this unique motion, plus the previous model's standard piston rod cover. Since the rod is shielded during the entire stroke, it is less likely to be damaged by welding or shop debris.