KrestoGT heavy-duty hand cleaners
Deb Group has introduced a complete line of heavy-duty hand cleaners designed specifically for the automotive aftermarket industry.
---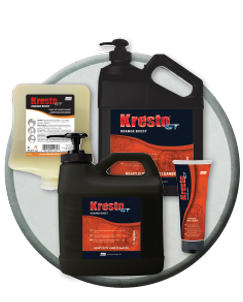 KrestoGT offers advanced and powerful products formulated to protect, clean and restore technicians' hard working hands.
KrestoGT heavy-duty hand cleaner contains all-natural, biodegradable scrubbers with no harsh solvents or sharp scrubber materials—keeping even the grimiest hands not only clean, but healthy and productive as well.
The issue of occupational dermatitis (acute skin problems caused by exposure to harsh chemicals) is specifically pressing in the automotive environment, where workers rely on their hands and often cannot wear personal protective equipment like gloves. According to the U.S. Centers for Disease Control and Prevention, up to 40 percent of workers will suffer from occupational dermatitis at some point in their working life. In addition, the U.S. Bureau of Labor Statistics data shows that roughly 50 percent of all working time lost to industrial illness is due to dermatitis, which can result in an average of two months away from work. This can have a huge impact on shop productivity and profitability.
"The Automotive industry is flooded with a multitude of low quality hand cleaners," said Michael Bogdanski, CEO of Deb in North America. "These cleaners are often formulated with heavy and dangerous solvents like petroleum distillates and harsh scrubbing particles like pumice that may severely irritate and damage the skin. Additionally, some service repair professionals use technical solvents like thinners or even kerosene to remove tough materials from their hands, which not only break down the skin, but contain toxins that can be harmful to the body."