Posted June 25, 2019
Dirteeze Bamboo Pro Wipe
The Dirteeze Pro Wipe is made from bamboo, the most renewable fiber source available.
---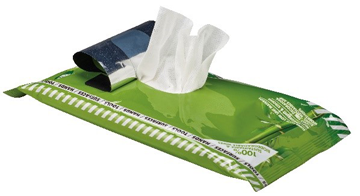 The Dirteeze Trademate Bamboo Pro Wipes are ideal for removing paint, foam adhesives, oil, grease and more. They are easy on your skin and can be used on hands, tools or equipment. Each resealable flow pack includes 25 pre-moistened wipes, so there is no need for water when cleaning on the go. Made from 100 percent bamboo fibers, these innovative wipes are 100 percent sustainable and biodegradable. The bamboo fibers yield a super thick, low lint material that is soft, absorbent and strong. Dirteeze Bamboo canes used in the manufacturing process is certified by Oeko-Tex ecological standards.
Dirteeze, the originator of agitation technology built into a wet wipe, was launched in the UK market in 2007. Now, Dirteeze is bringing its most popular line of wipes to the United States, led by a team with over 30 years of experience providing wiper solutions to the retail, industrial, safety and Jan/San markets. Dirteeze products combine high quality with affordable cost that will impress your customers, differentiate your company from the rest and grow your business within these market segments. Dirteeze products have been developed by focusing on finding the best solution for the wiping task at hand, not by following what others have already done.