Drillco Nitro-Max taps and threadformers
Drillco Cutting Tools Inc. introduced the Nitro-Max range of cut taps and threadformers.
---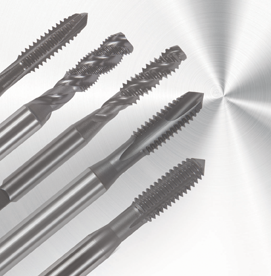 They are engineered for production threading in industry's most commonly used materials including steel, stainless steel, aluminum, copper, brass and plastic.
All Nitro-Max taps and threadformers are manufactured from a modified and enhanced M35 Cobalt Substrate (HSS-E), with high Vanadium content. This material provides increased edge strength and heat resistance. All tools are manufactured with ANSI shanks and squares common to North American tool holding systems.
Two options are available:
The ANSI/ANSI range is designed with a reduced neck to allow for improved coolant flow and improved chip evacuation. Black Oxide surface treatment provides improved lubricity and helps prevent the formation of built up edge.
The DIN/ANSI range is equipped with DIN overall lengths for additional reach. TiCN (Titanium Carbo Nitride) coating helps to hold sharp edges, reduces the coefficient of friction, and provides increased wear resistance.
Nitro-Max Spiral Point Taps, Spiral Flute Taps, and Threadformers are available in machine screw, fractional, and metric sizes.