Duracell to launch new Quantum batteries
Duracell will launch new Quantum C, D, and 9-Volt batteries during the summer of 2014.
---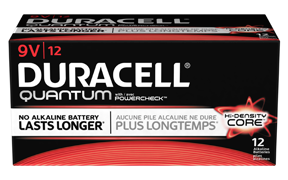 The launch will coincide with the first anniversary of the launch of the Quantum battery line.
The new batteries will have the same suite of exclusive features and technologies as Quantum AA and AAA batteries. All three new batteries include a Hi-Density Core to deliver more fuel and superior, unbeatable performance, the new Powercheck to instantly see the remaining power in the battery, and Duralock Power Preserve Technology to stay fresh for up to 10 years in storage.
These features increase battery life and dependability. With less time spent worrying about or changing the batteries in their devices, professionals can save time and money and focus on doing the jobs they do best.
"We are excited to build on last year's introduction of the Quantum battery," said Paul Schacht, Duracell Professional Team Lead. "Our customers need reliable, long-lasting batteries to help them perform critical jobs in the work place every day, whether they are plant managers, office managers or hospitality professionals. We are confident they will find the new C, D, 9-Volt Quantum batteries to be excellent additions to the Duracell lineup."
The new Quantum batteries are part of a growing sector of the battery market. C, D, and 9-Volt batteries currently represent more than a third of the battery market, and the share continues to grow. More than 300 million devices in the United States depend on the power of C, D, and 9-Volt batteries. These devices include smoke detectors, flashlights, and lanterns, among other critical devices.