Duracell Quantum
Duracell Professional announced the launch of Duracell Quantum, Duracell's most advanced battery, to its professional customers and distributors.
---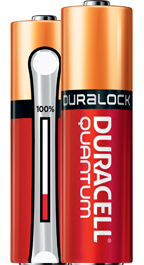 Duracell Quantum is the world's most advanced alkaline battery, the company says. Its Hi-Density Core includes more and better materials than ever before. Its ability to function efficiently across a range of low-drain and high-drain devices makes Duracell Quantum the ideal power solution for devices such as flashlights, smoke alarms, clocks, emergency radios, remote controls and digital cameras.
"We're very excited about Quantum and the benefits it offers our professional customers," said Paul Schacht, Duracell Professional Team Lead. "Reliable, long-lasting batteries are critical to the work done every day by our customers, whether they're plant managers, office managers or food service professionals. We are confident they will find Quantum to be an outstanding addition to the Duracell lineup."
Each Quantum battery is guaranteed to retain its charge for up to 10 years in storage thanks to Duralock with Power Preserve technology. Duracell Quantum also includes Duracell's exclusive Powercheck power indicator on each cell for an accurate reading of the remaining power.