Posted June 13, 2017
Empire Level UltraView LED Torpedo Level
Empire Level announced the introduction of the UltraView LED Torpedo Level.
---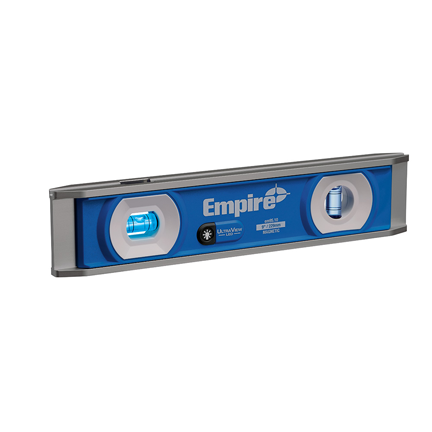 The new design integrates dual ultraviolet LEDS, optical brightener, and high-contrast e-Band vials to deliver high definition viewing in all conditions.
"A lighted torpedo is the preferred tool for low light applications in electrical, mechanical, plumbing, masonry and general remodeling applications but, unfortunately, the options available today either lack durability or bubble visibility," said Rick Gray, senior vice president and general manager for Empire Level. "We're proud to announce that our new UltraView LED Torpedos don't ask users to make this type of tradeoff. This new Torpedo not only features technology that improves vial visibility in these low light conditions, but delivers on the electronic durability and magnetic performance users need."
Empire's UltraView LED Torpedo Level is equipped with a patent-pending system that utilizes dual ultraviolet LED lights that surround each vial for maximum visibility and helps to illuminate the bubble meniscus - giving users the confidence that they are measuring correctly the first time, despite low light or dark conditions.
The new UltraView LED Torpedo features exclusive high contrast vial surrounds for industry-leading visibility, as well as a top read window for a clear overhead view. Empire's patented e-Band vials also provide maximum visibility and durability, the company says.