Posted November 3, 2021
Emuge-Franken end mills catalog
Emuge-Franken N.A. announced the launch of a new full line end mills catalog to support its growing end mill products expansion.
---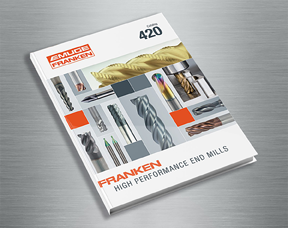 The 172-page catalog features hundreds of new products, specifications, technical materials, cutting data, drawings and images is available free in print by request at www.emuge.com/media-resources/order-brochures-catalogs, or via an online interactive version on the Emuge-Franken N.A. website: www.emuge.com.
"As we aggressively continue the expansion of our milling tools portfolio including the manufacture of end mills here in the U.S., as well as in Germany, the new catalog will be a key support and resource tool for our U.S. and Canadian customers and prospects, as well as our sales and engineering staffs," said Bob Hellinger, president of Emuge-Franken N.A.
The launch of the Emuge-Franken N.A. Full Line End Mills Catalog also coincides with the recent brand name update in North America to Emuge-Franken, which it has been known as internationally since 1958.