Eraser Company FybRglass brushes
FybRglass brushes from The Eraser Company are versatile tools that are a valuable addition to any tool box.
---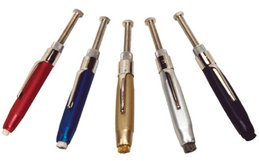 Eraser cleaning and burnishing brushes are made from coarse or fine grade FybRglass and also come in brass, nylon and stainless steel. These tools are suitable for a wide variety of cleaning, burnishing and polishing applications including rust removal, cleaning injection molds, de-burring small metal parts, erasing printing marks and cleaning contact pads or fingers of printed circuit boards. The industrial FybRglass brush can also be used in the household to clean hard water stains, coffee stains, mold on grout, scuff marks and soap scum.
FybRglass brushes and erasers come in a variety of styles and sizes. Metal Body Erasers are a handy pen type tool that are available in coarse and fine FybRglass, brass, nylon and stainless steel. Refills are available for all pen type erasers. Eraser Stick Brushes feature a plastic protective covering and come in a variety of sizes ranging from ¼" to 1" OD. The Rotary Cleaning Wheel is filled with pure spun fine grade FybRglass fibers with no bonding agent. This wheel is designed for rotary use mounted on spindles or mandrels and may be stacked together on a spindle to produce a wide face brush. Eraser's PCB Board Brush is a hand held brush for cleaning and burnishing non-populated printed circuit boards or large areas.