Posted November 23, 2021
Ergodyne expands ProFlex coated gloves line
Ergodyne announced a major extension to the ProFlex Coated Gloves Series with the launch of nine new cut- and abrasion-resistant models.
---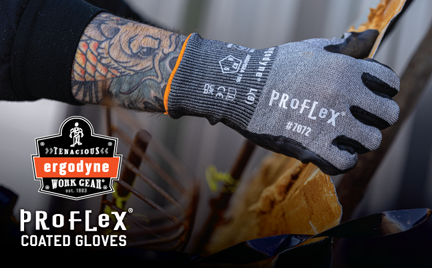 The launch aims to solve common glove issues by providing solutions to fit every budget and worksite—from economical but effective PU dips to industry-advancing tech like ultralight A7 tungsten and ASX coated palms that out-grip the competition on any surface.
"According to the Bureau of Labor and Statistics reports, 70% of all hand injuries happen when workers don't wear gloves," said Aaron Skemp, Ergodyne product manager. "This launch addresses basic complaints like breathability, bulk and grip but also goes far beyond that to bring some of the most innovative new technologies to the market."
One of those technologies is dual-layered ASX dip. Short for All Surface Extreme, this coating outperforms all other dips on wet and dry surfaces—with a 20% higher abrasion resistance than sandy nitrile.
"Considering the statistics, our goal with these gloves is really quite simple—to get them worn," said Tom Votel, Ergodyne president and CEO. "Through intense worker feedback and bleeding-edge technologies, we've targeted some of the most popular excuses workers have for going without hand protection."