ESCO MILLHOG Mini Electric Pipe Beveling Tool
Esco Tool introduced a new portable end prep tool that is ideal for metal fabricating shops and other applications where compressed air isn't available.
---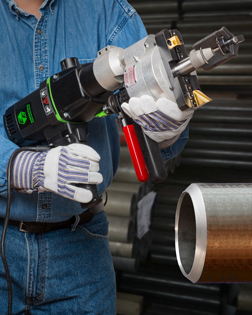 The ESCO MILLHOG Mini Electric Pipe Beveling Tool features an 1800 Watt 110/230 VAC, 40-60 Hz motor and a self-centering draw rod mechanism that rigidly mounts into a tube or pipe I.D. Developed for end prep applications where compressed air is not available, it utilizes the same wedge-lock blade locking system as the air-powered model and pulls a thick chip without oils.
Suitable for boiler tubes and pipes from 1-1/4" I.D. to 6-5/8" O.D., the ESCO MILLHOG® Mini Electric Pipe Beveling Tool has 2-speed operation: Low speed of 18 RPM for stainless steel, P-91, and exotic alloys and High speed 60 RPM for mild and carbon steels. Ideal for repetitive end preps, it can perform any angle of prep including compound bevels and J-preps.
www.escotool.com