Posted September 20, 2016
Expanded Technologies dual density utility mats
Expanded Technologies introduced a new line of dual density utility mats that organize and protect small tools and parts.
---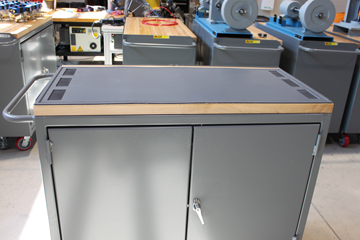 The mats are perfect for benches, utility carts, toolboxes and tables. They are offered with a peel and stick backing for extra hold or non-slip backing to move them easily. Both provide stability and are installed quickly. Every mat is made with a durable, dual density non-slip material for a secure and gentle working environment on any size surface.
"Two of the complaints I hear most often are that an item slides across a bench top and causes damage or a screw falls off the work surface and is lost," says Bret Bushey, vice president at Expanded Technologies. "The non-slip top surface keeps projects in place and the catch-all channel and convenient pockets help organize the screws and small parts."
The mats are composed of a firm, but soft, ultra durable material that stops items from moving or rolling while also protecting delicate pieces from scratching or damage. The construction of the mats virtually eliminates noise normally associated with dropping heavy items onto workbenches or clanking caused by items carted across uneven surfaces. The softer bottom layer is great for cushioning, while the dense top layer is ideal for durability.
Expanded Technologies offers a variety of stock sizes and styles that are ideal for any work surface, including desks, workbenches, and pushcarts. Custom sizes, colors and designs are available, and a company logo can be added.