Posted March 11, 2020
Festool CT 15 Dust Extractor
Festool USA unveiled the newest addition to its lineup of state-of-the-art dust extractors with the all new CT 15 Dust Extractor.
---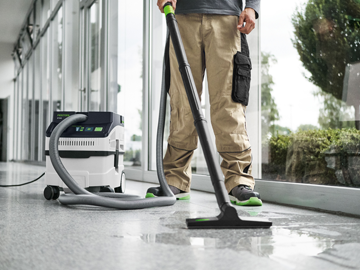 This mobile dust extractor is fully HEPA Certified – featuring a HEPA filter and meeting or exceeding all requirements of EPA RRP guidelines. Whether in the shop or on the jobsite, the CT 15 is perfect for anyone on the go – with its robust, lightweight chassis, weighing in at just under 24 pounds (10.8 kilograms). The CT-15 is compatible with all Festool systems, capable of removing dust, water and dirt.
The CT 15 also comes complete with touch-operated control panel for easy operation even while wearing gloves or in a dusty workshop. In addition, the tool-triggered activation is a real time-saver as the extractor starts and stops in-sync with the connected tool when it is plugged into the supplied socket.
"The CT 15 is an exciting new product for Festool as it is a great solution for our customers and the wide range of jobs they complete each day," said Rick Bush, vice president of marketing for Festool. "It also delivers the same German-built quality that our customers expect from Festool at a very attractive price."
The CT 15 is designed with an externally accessible filter for fast filter changes. Users can change filters quickly and completely tool free. Featuring a four-gallon capacity, the CT 15 can be used for extended periods of operation without requiring a replacement bag.
Additional Features & Capabilities:
• Mobility – With the smaller footprint, dimensions and lighter weight, the CT 15 is ready to go wherever it is needed – whether the shop or the jobsite.
• Intuitive Design – With storage in the extraction system for accessories and a flat-top storage area, keeping an organized work space is convenient with the CT 15.
• Always Ready – Compatible with all Festool machines equipped for dust extraction, the CT 15 is outfitted with tool-triggered activation for synchronized operation with the user's tools.
• Variable Suction Force – The CT 15 regulates air flow for applications like fine sanding so users can always get the best results.