Posted December 19, 2019
Festool Kapex Sliding Compound Miter Saw
Festool USA unveiled the KS 120 Kapex Miter Saw, a compact and lightweight sliding compound miter saw.
---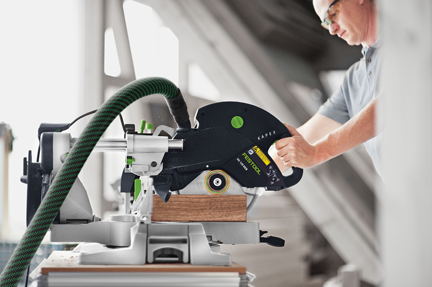 Perfect for the workshop or the jobsite, the KS 120 showcases precision-boosting features to ensure fine cuts every time.
Adjustable dual-line lasers deliver perfect indication of cut line for fast stock placement. Once aligned, the miter lock and bevel lock features make certain that each movement will be exact, providing the additional key benefits of 'first-time-cut-right' jobsite efficiency and trust in getting great results. These features are complemented by the KS 120 rail-forward design which is set wide apart to reduce head play and increase precision for smooth, exact cuts.
"Unlike any other sliding compound miter saw, the KS 120 is equipped with a proprietary cutting position that allows for a greater depth of cut — up to 6-5/8" molding in the nested position — without using a larger blade, rivaling the cuts of many 12" miter saws," explained Rick Bush, Vice President of Marketing for Festool. "When combined with Festool's renowned dust-extraction system, the KS 120 captures 91% of particulate from the worksite, making the work precise and efficient."
The 1,600 Watt direct drive motor that powers the Kapex ensures precise transfer energy to the blade for constant speeds during cuts and flawless exactness. When power is cut-off, users can protect their investment with built-in storage for the power cord and arbor tool, providing a much safer alternative to simply wrapping the cord around the saw.
Additional Features & Capabilities:
• Lightweight — at just 47 pounds, with locking head and 2 handles for center-of-gravity ergonomics, transporting the KS 120 is a breeze.
• Versatility – The KS 120 can cut miters from 50° (left) to 60° (right) and with oversized scales, effortless and accurate adjustments can be made for both miters and bevels.
• Time-Saving – Festool's FastFix blade change system allows blades to be switched with one hand. A cupped steel arbor nut also prevents over-torqueing to the saw and blade.