Flexaust Dayflex all-plastic stretch hose
Flexaust introduced a new clear, flexible dust collection hose that is highly compressible and durable to help maintain a safe and neat woodshop environment, especially in tight quarters.
---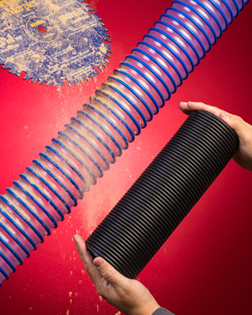 Flexaust Dayflex FT-APS is an all-plastic stretch hose (APS) featuring a 2:1 stretch ratio and pliable polypropylene outer helix that can be dragged and easily routed within congested woodshops. Clear, flexible, and crush-resistant, this dust collection hose lets workers easily see blockages and is highly compressible to help prevent tangling and tripping.
Suitable for light vacuum and low pressure applications, Flexaust Dayflex FT-APS is available in 2-1/2" and 4" I.D. sizes in standard 10 ft. lengths. Providing moderate abrasion resistance, this lightweight all polypropylene hose is reinforced with an external helix and comes in standard clear and black, with custom colors and lengths optional.