Posted September 2, 2020
Fluoramics Rust-Stopping Lubricating Oil
Fluoramics has developed Rust-Stopping Lubricating Oil that stops rust in its tracks while lubricating.
---
I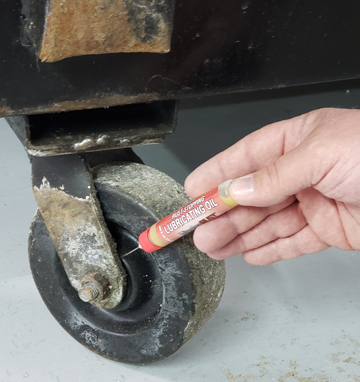 t is available as a pocket oiler and features robust packaging paired with a needle-like application tip designed for precise application. The oiler comes with a removable pocket clip so that you can keep it secure in your pocket while you are on the job, in the shop, or performing everyday maintenance.
Holding 12 ml. in its 5.25-inch length, the pocket oiler is just the right size to keep in your tool box, pocket, or vehicle glovebox. The oiler is perfect for use on pivot points, protecting moving parts that cannot be painted, battery terminals, wiring and electronics, and machine / equipment maintenance.
Rust-Stopping Lubricating Oil is based on HinderRUST, a blend of unique chemistries that allow it to travel beyond the area to which it is applied to. That means it soaks deep in to cracks and crevices, allowing it to lubricate and protect areas not visible to the eye. HinderRUST also displaces water and forms a boundary film between the metal and moisture.