Forney expands welding line
Forney Industries recently announced the expansion of its welding line.
---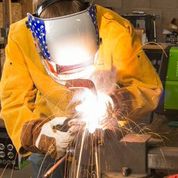 "Forney Industries has taken a thorough look at what our customer needs to make him/her successful in their trade," said Jason Mahugh, senior manager Welding Products and Engineering. "Our customers wanted specific improvements to our current selection and a deeper variety of what we currently offer. Now, we have an impressive and expanded line of welders that complete all categories, for every kind of work and hobby."
Six new welders have been added to the Forney lineup: 140 MP, 190 MP, 140 MIG, 190 MIG, 210 MIG, and the 270 MIG. Forney Industries began shipping the 210 MIG and 270 MIG welders in January 2015. These machines are designed with increased output for welding a variety of thicker, larger materials. Available March 2015, are the MP "Multi Process" welders and the 140 MIG and 190 MIG welders. The MP welders offer the welding enthusiast the ability to MIG, Stick or TIG weld in a single machine and the 140 MIG and 190 MIG are high quality welders at a fair price.
"As standard for us at Forney, we took the demands of our customers very seriously," added Mahugh. "We now not only offer the new welders, but we have added a significant amount of value and features to the line that we currently offer."
Forney has upgraded its line to include a cast aluminum wire-drive system, dual geared idler and drive roll with de-spooler as well as expanded cabinet size. Additional value has been added by increasing the working area with a longer power cord and longer MIG gun and adding in a torch wrap to organize cables.