Gear Keeper Retractable Tethering System
Warehouse workers handle bar code scanners on a daily basis.
---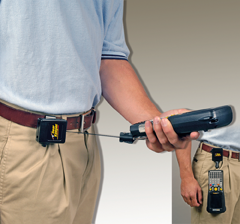 Although these delicate instruments are critical for inventory control, they can be easily broken when dropped and are often misplaced and not available when needed.
Gear Keeper's full-featured instrument retractor line securely hangs a Bar Code Scanner from a forklift or packaging/assembly line offering workers with easy accessibility in use and secure storage when not in service. In addition to the durable and compact design of the retractor mechanism, each unit includes the patented Q/C-II connector that allows quick and easy disconnection of the instrument from the tether. For those scanners without lanyard loop an adhesive attachment pad is in also included.
Although the RT3-45xx series is primarily for hanging instruments from fork lifts or assembly lines, other Gear Keeper retractable tethering systems offer a variety of personal instrument tethering options that enable users to also hang the instrument with a belt clamp that has a full range of motion or if preferred, a comfortable shoulder strap. Both can be ordered with a variety of clips or straps depending on individual application needs and instrument weights up to 36 oz.