GearWrench Professional Pliers
GearWrench announced its new Professional Pliers lineup that includes 15 new products in three categories: tongue and groove pliers, slip joint pliers, and cutting pliers.
---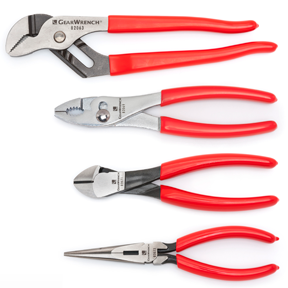 "Our new pliers reflect the quality and durability that end users have come to expect from GearWrench" said Jim Stewart, product manager for GearWrench. "The Professional Pliers were carefully designed to deliver the features that are most important to technicians. From the handles to the jaws, these pliers provide enhanced productivity and performance."
The pliers feature laser-hardened cutting edges, for accurate hardening and improved durability. The laser hardening process ensures a precise area is hardened giving a superior edge and maintaining the integrity of the plier joint.
The pliers feature dipped handles, which provide added comfort for the end user and make the pliers easy to clean. Knowing that pliers are often used in harsh working conditions, GearWrench added a clear anti-rust coating to the new line to prevent corrosion. All GearWrench pliers in this range meet and/or exceed ASME performance specifications.
The GearWrench Professional Tongue and Groove Pliers feature an interlocking tongue and groove design that will not slip and smoothly adjusts to a wide range of jaw positions. The multiple jaw positions allow for improved flexibility and gripping comfort with an optimal handle span. The induction hardened teeth improve strength and gripping power and a riveted joint keeps the jaws aligned and prevents separation.
The Long Nose and Lineman's Pliers include a machined cross-checked jaw pattern which holds materials in any direction. The unique design is ideal for gripping, pulling and twisting materials.