Posted October 4, 2017
GEARWRENCH introduces new brand identity
GEARWRENCH unveiled a new logo and brand identity, including a logo, tagline, color palette, typography and product design.
---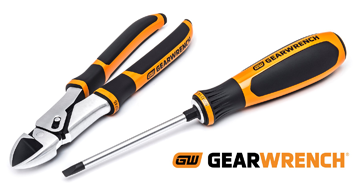 "The GEARWRENCH brand has grown remarkably over the past 20 years," said Ray Smith, vice president of marketing, North American Hand Tools. "We've undertaken this comprehensive new brand identity program to reflect that progress. This new visual identity will help communicate the high quality of our products, our customer-focused culture, and our commitment to innovation."
The new GEARWRENCH logo was designed to reflect the power and personality of the brand. The logo it replaces has represented the brand since it first appeared in 1996 when GEARWRENCH introduced the first professional grade ratcheting combination wrench. Its high-strength forged construction, fine-tooth ratchet mechanism, and compact head design provided improved access in confined workspaces, allowing users to finish jobs with unprecedented speed.
The new FORGE AHEAD tagline connotes the strength and power of the forging process combined with the forward-looking vision that has propelled the growth of the brand.
"GEARWRENCH has had a reputation for innovation since the beginning," added Smith. "The new FORGE AHEAD tagline will resonate with users in every market we serve, whether it's automotive, industrial, commercial, or one of the many other places where you'll find GEARWRENCH tools at work."
In addition to the new logo and tagline, the all-encompassing brand identity program will include new product design, social media graphics, advertising, packaging, catalogs and brochures, trade show displays, vehicle signage, business forms, and much more. This initiative will provide additional energy to the brand and will demonstrate that GEARWRENCH is committed to continued growth and innovation.
Since its introduction, the GEARWRENCH brand has grown to include not only wrenches, but a wide assortment of automotive and industrial hand tools, including ratchets and sockets, tool storage, torque wrenches, striking and struck tools, screwdrivers and nut drivers, pliers, and impact sockets. By the end of 2017, there will be over 4,100 different GEARWRENCH products.
A substantial marketing investment in the GEARWRENCH brand is being made this year. It includes a partnership with NASCAR and Chip Ganassi Racing and a comprehensive multi media advertising campaign. Both have been extremely successful. "Our 2017 marketing initiatives have all exceeded our expectations," said Curt Weber, Senior Director, Brand Management. "Brand awareness, social media engagement, and sales results all point to the fact that our efforts are generating significant positive sentiment for the GEARWRENCH brand."