Spider Cutter from General Pipe Cleaners
General Pipe Cleaners introduced the new spider cutter, a double cutter with front and rear blades.
---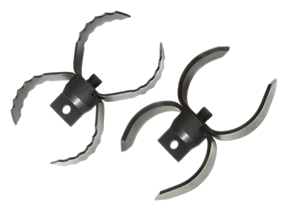 This new cutter begins cutting when the cable is fed into the line and continues to cut as it retracts, removing stubborn stoppages.
Spider cutter is available in two models: the Double U-Cutter and the Double Heavy Duty Side Cutter. Both models are available in 3- and 4-inch sizes. The Double U-Cutter can be adapted for use on sectional drain cleaning machines, as well as on other brands of drain cleaners.
"The new spider cutters are perfect for stubborn clogs, chewing through them on the way in and finishing them off on the way out," said Marty Silverman, vice president of marketing, General Pipe Cleaners. "The spider cutters, like the rest of General Pipe Cleaners' cutters, can be used with virtually any drain cleaning machine, whether we made it or not."
General Pipe Cleaners also offers more than 100 types of cutters for virtually every drain cleaning need. The full line of cutters includes starting tools such as the Arrow Head and Spearhead; finishing tools, such as the U-Cutter or Heavy-Duty Saw Blades; and specialty cutters, such as the ClogChopper and Root Ripper. All General Pipe Cleaners cutters are available with connectors for drum-type or sectional drain cleaning machines made by General Pipe Cleaners or other manufacturers.