RAM 744 AutoCal in-line CO monitor
The RAM 744 AutoCal from GfG Instrumentation is a continuous in-line CO monitor with low maintenance, and a dependable, long-life electrochemical sensor.
---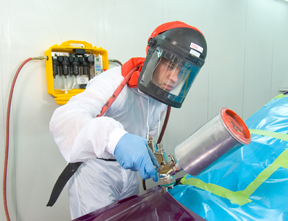 It can be wall mounted or used as a fully portable compressed air monitoring system for up to 8 users.
The RAM 744 contains a three stage 25, 50 or 100 CFM filtration system with the CO monitor, allowing for rapid response and eliminating the possibility of sample lines becoming blocked or crimped. The flow rate is fixed so there are no touchy flow meters to adjust. Calibration and maintenance are made simple with our innovative AutoCal system that allows the CO sensor to be calibrated with a test gas connection and the flip of a switch.
All GfG Instrumentation Respiratory Airline Monitor Instruments satisfy the requirements of OSHA rule 29 CFR 1910.134 (d) (2) (ii) for carbon monoxide monitoring. They will also monitor Grade E air, generally specified for breathing air in cylinders (SCBA).