Bitu-Ox cleaning products
Green Way Products LLC, located in Mahwah, N.J. has developed a cleaning product line that is effective and powerful but is safe for the environment and the worker.
---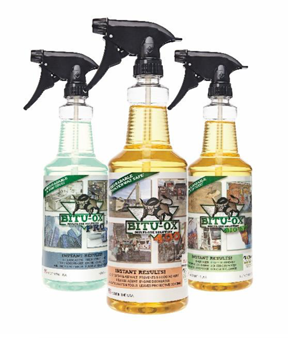 Bitu-Ox was designed by a chemist who had worked in the oil fields for over 40 years and was working with a variety of chemicals to help remove oil sludge in the fields. When he came to GWP he took his knowledge and developed safe and effective products that could be used in multiple industries including asphalt, construction, automotive, marine industries and more. Bitu-OxTM products work immediately in breaking down the substance intended for cleaning and turns it into a liquid form for easy clean up. These formulas not only work effectively but are certified biodegradable and waterway safe by SCS Global Services located in California. It is GWP's responsibility to develop products that work instantly and are safe for the environment and the workers.
Bitu-Ox 400 is an oil based solvent that liquefies and breaks down tar, asphalt, oil, grease, asphaltene and paraffins. Has multiple uses including acts as a heavy lubricant, release agent, degrease and can be used in a power washer for extreme cleaning. For use on multiple surfaces, rinse with water after use.
Bito-Ox PRO is a water based cleaning agent designed for daily multi-purpose cleaning in industrial or commercial applications. Removes grease, oil, grime, soap scum, mildew, sticky substances, fingerprints and more. Can be used in a power washer for extreme cleaning. For use on multiple surfaces.