Greenlee cable tray accessories
Greenlee / A Textron Company offers non-basket-style cable trays: the 666QA Quick Adjust Sheave Roller, and the CTR100 and CTR200 Cable Rollers.
---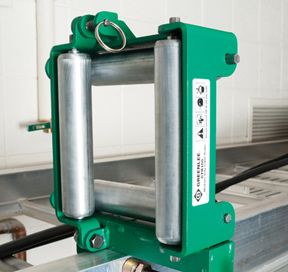 Designed and assembled in the United States, these new accessories provide users with quick and easy adjustability for faster, safer and easier cable pulling.
The 660QA Sheave Roller is designed to be fully adjustable to fit on tray rung spaces up to 20" (508 mm) apart. The cast aluminum sheave can easily handle forces of up to 100 lbs. (45.4 kg). Its sheave can fit all cable tray rung spacings with quick connect features that are seven times faster than standard tray type sheaves. A set screw handle locks and unlocks an adjustable sliding leg, eliminating the need to access the top and bottom of the tray to securely attach the sheave. Users can quickly adjust to the appropriate rung spacing on the cable tray with no loose pieces and won't need to purchase separate sized tray sheaves.
The CTR100 and CTR200 Cable Rollers are specifically designed to assist at heavy load points around 90° bends, offsets, and vertical rises and drops, while not taking up space in the tray. The four conveyer rollers securely trap the cable within the guide, while not damaging the cable jacket and allowing the cable to smoothly glide through. The roller is designed with a retained spring pull-pin release allowing users to easily free the cable into the tray. Sturdy steel construction allows the CTR100 and CTR200 to easily withstand cable pulling loads up to 100 lbs. (45 kg) and 200 lbs. (90 kg), respectively. The CTR100 is designed to quickly and securely attach to the side wall of a cable tray, and has quick connect features that attach and detach the roller guide to the tray two times faster than standard four-sided cable rollers. The CTR200 is designed to be fully adjustable and fit over both sides of the cable tray and held into place with an auto-retracting ratchet strap. It has the versatility to handle multiple tray widths from 12 to 36 inches and cable orientations.