New Quarterly H.L. Flake catalog
H.L. Flake's hot-off-the-press, newest volume of the Security Hardware Catalog is mailing the second week in June and tops out at 276 pages.
---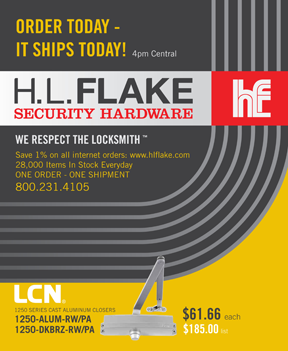 The last issue of this catalog was mailed in February.
New products from 2015 and 2016 are featured on over 30 pages in the catalog, such as the much talked about indoor bluetooth-enabled padlock 4400D by Master Lock. Of special note in this catalog, H. L. Flake has created a "retail-ready" section of retail-packaged items that the storefront locksmith can showcase in his/her store. The section has a three-star ranking system recommending which products will be best sellers. The "retail-ready" product offering includes over 30 pages of keys, key accessories, padlocks, hardware and more, along with storefront selling tips from Dan Floeck, H. L. Flake's CEO. The star ranking system is meant to be a buying guide for the locksmith and shows which retail items are platinum, gold and silver sellers for locksmiths across the country.
The mailing of this new catalog comes only one month after the new full-line H. L. Flake Automotive Locksmith Catalog was mailed.
H. L Flake stocks over 28,000 SKUs, and its entire product offering is shown online, with e-commerce ordering. The company provides same-day shipping and has a better than 95 percent fill rate.
All orders placed on the company website are discounted one percent.