New Hamilton Caster carries up to 5 tons
Hamilton Caster's new Enhanced Precision Super Duty (EPSD) Series is designed to handle the rigorous applications found in the heavy manufacturing industry.
---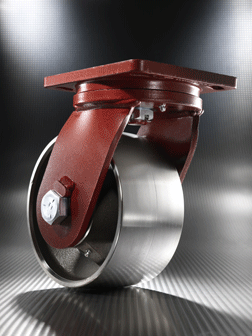 "If there was ever a beauty contest held for industrial casters, the EPSD would likely win it," explained Mark Lippert, VP of Marketing at Hamilton. "This caster has excellent proportions and balance." He says the caster's good looks begin with ½" thick forged steel mounting plate 6-1/2" wide x 7 1/2" long. The legs are 3/8" thick x 4" wide formed and robotically welded to a 6-1/4" diameter forged steel ring. The caster is finished with a high gloss enamel in Hamilton's trademark crimson red.
The caster's great outward appearance is complemented by its rugged internals. The EPSD is designed with Hamilton's most advanced swivel technology, HPI. Hamilton's HPI (Hamilton Precision Integrated), has been proven to outperform conventional CNC-machined ball raceways, kingpinless, and unit load bearing swivel constructions. HPI improves the swivel bearing's element of contact and more than doubles the number of contact points. The HPI raceways are also 45% harder than conventional hardened raceways and the surface finish is an incredibly smooth 16 micro inches
The series accommodates wheel sizes ranging from 6" diameters x 3" wide up to 12" diameters x 4" wide. Choose from clear coat drop forged steel wheels (shown in photo), heavy duty cast nylon, or six different types of polyurethane tread wheels. The casters can be ordered with easy-rolling, maintenance-free double sealed precision ball bearings or hard-wearing precision tapered roller bearings. The wheels ride on durable 1" diameter grade 5 axles. Finally, the EPSD Series is backed by Hamilton's industry-leading three year product warranty.