Posted August 9, 2017
Hamilton Caster shock absorbing casters
Hamilton Caster introduced a new line of shock absorbing casters designed to meet the needs of the aerospace industry.
---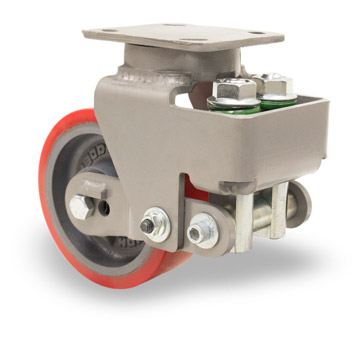 These spring-loaded casters feature Hamilton's newest Spinfinity maintenance-free swivel construction and a unibody spring housing providing up to 200% greater spring travel and a wider operating capacity range compared to Hamilton's existing line.
The new shock absorbing AE Series casters reduce noise, protect cargo and extend caster, wheel and bearing life. They are well suited not only for aerospace applications but also for those heavy-duty material handling challenges that require extra care during transport in industrial environments.
Hamilton's Spinfinity maintenance-free kingpinless platform boasts a top plate and inner raceway of forged steel providing a superior raceway for shock conditions. The raceways are CNC-machined and then hardened to ensure protection against shock and smooth swiveling. The spring housing is cleverly designed, laser cut and bent from a single plate of steel, providing durability and an aesthetically pleasing appearance.
The new line is offered in three series covering Hamilton's three most popular mounting plate sizes. Select from wheels ranging in size from 4-inch diameter by 2-inch wide up to 12-inch diameter by 5-inch wide. All three series qualify for Hamilton's three-year product warranty.