Posted November 7, 2018
Gear Keeper ANSI-compliant Super Coil Tool Tether
Hammerhead Industries, manufacturer of Gear Keeper industrial tool tethering systems, has announced its new ANSI-Compliant ¾ inch Super Coil tool tethers for heavy tools and instruments.
---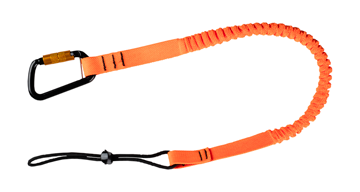 The ¾" Super Coil is a flexible, low profile coil system that provides up to an 8-foot diameter working area for heavier tools like power drills, nail guns, power drivers and other similar tools and instruments.
The new Fixed Loop ¾ inch Super Coil tether, is just one of a new Gear Keeper family of ANSI-Compliant tethering products. The tether is rated for use as an anchored attachment to a fixed structure for tools up to 15-lbs. Easily attached to a fixed structural object by its aluminum, self-closing and locking double action locking carabiner with captive eye, anchoring the tether in this manner transfers the shock load produced by a dropped tool from the worker to the structure. The tether can also be used as a personal tool tether (attached to a person), but only for tools up to 5-6-lbs are safely permitted for this usage.
The tether's coil system is fully enclosed in durable and ergonomically sound soft nylon with woven elastic webbing. Unlike competitive "stiff bungee-type" elastic cables, Gear Keeper integrates their elastic into the tethers by weaving it into the webbing. This provides a host of benefits including a longer useful life, a more gentle recoil and extension to avoid arm fatigue and also serves to reduce "drop-shock" while minimizing the chances of bounce back when the tether is used with lighter items.